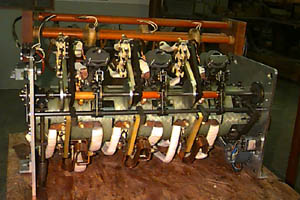 Normandy Machine Co. (NMC) has been a trusted supplier to the electric power transmission and distribution industry since 1940, serving most Transformer Manufacturers, nearly all Electric Utilities, and scores of Industrial Plants in the USA. NMC repairs and manufactures component parts for power transformers and circuit breakers, including low and high voltage bushings, contacts, tap changers, and switch gear.
Contact Problems?
NMC can help; whether you need a contact refurbished or new contacts that meet or exceeds OEM Specs — or a "NMC One" product that meets or exceeds customers needs to extend contact life. The Catalog marks these by blue lettering and * symbol.
The NMC Catalog is a comprehensive list of parts and part numbers for all makes and models of Load Tap Changers (LTC's) and Oil Circuit Breakers (OCB's) plus various other parts needed by substation maintenance crews.
Contact Normandy for the answers to your contact problems!

Contacts Catalog
Bushings | Contacts | Switches
---
Home | Newsletter | Contact Normandy | Contacts Catalog
Copyrightę 1998 - 2000 Normandy Machine Company, Inc. All rights reserved.
This page was last updated: June 07, 2022